TIGHTS THAT TICK ALL THE BOXES
---
Sharing your Pics on our Socials
HEY HEY you gorgeous human. Thank you for coming to visit our store. When you purchase - we LOVE receiving pictures and videos of you rocking your Evom gear. Send them through and we will 100% share and tag you.
There is nothing better than seeing YOU, our customers sharing your love for Evom.
Our repeat customer rate is much higher than the average and our reviews are 4.97 Stars. Check them out on the side tab you can see on your right. If you haven't left your review yet - please do. It helps us to grow - cos you know, we absolutely have BIG GOALS for Evom and wana bring heaps more cool shit for our awesome loyal community.
Much Love - LJ xo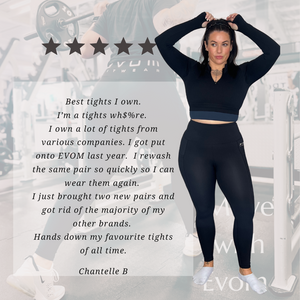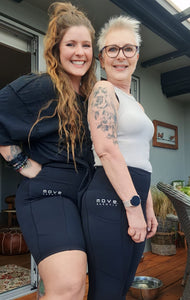 Our Community Are Our Ambassadors
We love having our customers as our ambassadors - to rep our pieces. It showcases transparency, authenticity and love for our products.
Photo featuring the babes, Shaye and her Mama wearing the Era One tights and shorts.
You will see Shaye rocking our gear across NZ, jumping in and out of Rivers, Ponds, Ocean, Lakes and swimming pools, up down and around the cliff face, hiking in through the woods. Shaye is one of our Evom ambassadors and we LOVE her vibe and energy. Check out her page on TIKTOK @Shaymiss913
Wear clothing that gives you that Dopamine hit - Feel empowered, Strong, Confident - Move with ease and strut yo hot self sis. You deserve to feel amazing. Remember who gives a F what anyone thinks.
I LOVE it when the LOVE returns with feedback on how wearing evom makes you feel. It brings so much warm, positive vibes and emphasises my why as the owner of Evom. To design lifestyle wear that makes you feel empowered, confident and of course sexy AF. I sent this amazing loyal customer a gift card as a thank you for the love and support and this is what the absolute babe came back with. ALL THE WARM FUZZIES!
"Throughout my weight loss journey, I have only worn EVOM gear & they are all so comfy and Ive felt  extremely confident in all my gear. Slowly I am going down sizes & need to order smaller compression tights now. My ultimate goal and inspiration is to look as amazing as you do in your model pics and I am slowly getting there. So thank you again so much. This feels like a reward toward my weightloss goal & I am sooo f**king greatful! Beyond words.
- Kaara